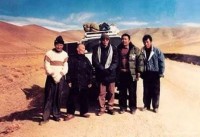 1999年12月28日,在黑夜籠罩下,我和幾位貼身侍從,離開了我在西藏的寺院出走到印度。離開家鄉、寺院、僧眾、父母、家庭和西藏人民的決定,完全是我個人的決定。沒有人告訴我要離開,也沒有人叫我來此。我離開我的家鄉是為了弘揚佛法,另一方面是為了接受噶瑪噶舉傳承深奧的灌頂、口傳和教授,這些我只能從上一世噶瑪巴的弟子得到,他們是大司徒仁波切和國師嘉察仁波切。他們兩位都曾被預言是我的老師,目前都住在印度。
"On December 28, 1999, under the cover of a dark night, my senior attendant and I escaped from my monastery in Tibet and fled to India to seek refuge. The decision to leave my homeland, monastery, monks, parents, family, and the Tibetan people was entirely my own–no one told me to go and no one asked me to come. I left my country to impart the Buddha's teachings in general and, in particular, to receive the excellent empowerments, transmissions, and instructions of my own Karma Kagyu tradition. These I could only receive from the main disciples of the previous Karmapa, Situ Rinpoche and Gyaltsap Rinpoche, who were predicted to be my teachers and who reside in India.
關於我的出離,媒體上有各種的報導,所以在此我想要簡單扼要地把過程真相向各位說明。
"There have been various reports in the press about my escape, and so I will simply and briefly tell the truth about my journey.
在嚴格保密中,我和同伴們作好計劃,並以各種說法來掩飾我們的行動。譬如,準備就緒即將行動之前,我宣佈我要依傳統方式嚴格的閉關,數日之內不出關。這個方法有效防止了被馬上追查。
In great secrecy, my companions and I made our plans, using various stories to cover our true activities. For example, when the preparations were complete, I announced that I was entering a traditional, strict retreat and would not come out for some days. This story worked and prevented us from being pursued right away.
12月28日,約晚上10:30分,我和侍從從我房中悄悄地走出來,從窗口跳到瑪哈嘎拉護法殿的屋頂上,再從那裡跳下地面。一輛吉普車由喇嘛竹清駕駛已在等候。之前我們早已告訴大家,喇嘛竹清和他的朋友準備外出旅行。為了使人相信,他們在白天已進出寺院多次,所以大家都知道他們要遠行,因此我們可以很容易的離開。通常,寺院有嚴格的監控,但是並沒有24小時的警衛人員值班,而我們也選擇從一條邊路離開。
"On December 28, around 10:30 at night, my attendant and I slowly climbed down from my room and jumped onto the roof of the Protector Mahakala's shrine room. From this building, we leapt to the ground where a jeep was waiting nearby with Lama Tsultrim and a driver. We left immediately. The story had been given out that Lama Tsultrim and his companions were going on a journey. As if preparing for this, they had driven in and out of the monastery several times during the day, and, therefore, everyone knew about this trip and we could easily leave. Usually, the monastery was strictly guarded, but no twenty-four hour guards were posted and we also left through a side road.
不久喇嘛財旺和另一位駕駛在指定地點和我們會合,我們決定駛向西藏西部。因為很少人走這條路,因此路檢也不會太嚴密。除了停下來換駕駛外,我們晝夜不停地開車。我們選擇山路小徑以避開路檢站和兩個軍營。經由我向佛的祈請以及佛的慈悲,我們沒有被發現。
"After a while, Lama Tsewang and another driver joined us at a designated place. We decided to head directly towards western Tibet since few travelers used this road and the check posts were not so strictly guarded. Driving day and night, we stopped only to change drivers. By taking back roads through the hills and valleys, we evaded check posts and two army camps. Through the power of my prayers to the Buddha and through his compassion, we were not discovered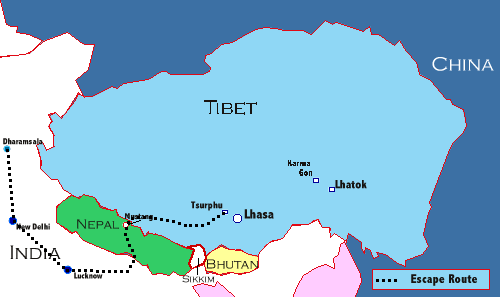 順利地,於1999年12月30日的早晨我們到達了尼泊爾的慕斯坦(Mustang)。我們繼續徒步或騎馬,通過了幾個關卡,終於到了我們計劃中的地點瑪南(Manang)。因為路況非常不好,危險的小路,加上冰冷的氣候,這一段路程格外地困難和累人。在那時候,我非常累,身體也不適,但是儘管有如此多的困難,我下定決心一定要達成我的目標。
and arrived in Mustang, Nepal, on the morning of December 30, 1999. Continuing the journey on foot and horseback, we crossed over several passes and finally reached Manang as I had planned. This part was extremely difficult and exhausting due to the poor and often dangerous condition of the paths and the freezing cold weather. During this time, I was tired and not very well physically, yet despite the difficulties, I was completely determined to reach my goal.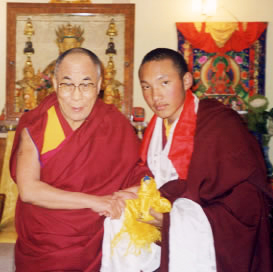 到了瑪南,喇嘛財旺的好朋友幫我們租了一駕直升機,我們在尼泊爾拿嘎柯(Tagarkot)降落。我們乘車去羅賽(Rauxal),從那裡乘火車到陸高(Lucknow)。在2000年1月5日清晨終於到達了達蘭沙拉(Dharamsala)。我直接去覲見尊貴的達賴喇嘛,他是慈悲的化身,他以慈愛和關懷接受了我,我非常地開心。
"Once in Manang, a close friend of Lama Tsewang Tashi helped us hire a helicopter. We landed in a place of Nepal known as Nagarkot and then went by car to Rauxal. From there, we traveled by train to Lucknow and continued with a rented car to Delhi, arriving at last in Dharamsala early on the morning of January 5, 2000. I went straight to meet His Holiness the Dalai Lama, the very embodiment of compassion, and he received me with his great love and affection. My joy knew no bounds."
註:本文節錄自,2001年4月27日,法王噶瑪巴首次於印度達蘭沙拉上密院召開的記者會上所作的公開聲明。
On April 27, 2001, His Holiness himself described his departure to the world wide media.