法王新闻 | 2004年03月
與達賴喇嘛同在雷瓦薩(Rewalsar)
To Delhi and Rewalasar
3月1日,在喜馬偕爾邦,里瓦沙的蓮花湖(Tso Pema),法王、波卡仁波切參加尊貴的達賴喇嘛的活動。在蓮花湖,尊貴的達賴喇嘛授課並在藏曆元月十日蓮師日為大家灌頂。此法會於猴年元月十日在蓮花湖舉行,每十二年才舉行一次,估計有40,000人參加了此次的活動。
On March 1st, His Holiness was at Tso Pema (Rewalasar), one of the most famous Buddhist Vajaryana holy places, where Guru Padmasambhava was said to have manifested miraculous activities with Princess Mandarava. The anniversary was particularly auspicious because it was the first during the current Monkey Year, which occurs only once every 12 years.
His Holiness the Dalai Lama presided over anniversary ceremonies in the area, in the presence of over 50,000 pilgrims.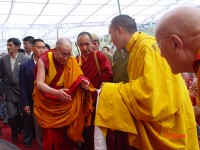 在蓮花湖,法王拜會了止噶寺(Dzigar Monastery),並在此湖附近神聖的蓮師山洞修法。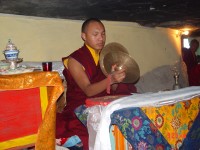 Upon returning to Gyuto, His Holiness attended teachings in March in Dharamsala by HH Dalai Lama, who lectured on Patrul Rinpoche's Words of My Perfect Teacher and The 100,000 Songs of Milarepa. In the morning, His Holiness also studied the Hevajra Tantra with the Very Ven. Bokar Rinpoche, at the temporary headquarters of the Karmapa at the Gyuto Tantric University in Sidbhari.
---