時間:2005年12月13日
地點:瓦拉那西 創古智慧金剛大學
報導:釋妙融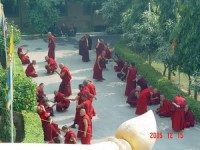 第九屆噶瑪冬季辯經法會,於瓦拉那西創古寺舉行,法王噶瑪巴親臨指導教授全體僧眾。本屆辯經法會由隆德寺主辦,同時也邀請嘉察仁波切為全體僧眾教授「甚深內義」此部噶舉宗門實修要典。
12月13日,在眾人殷盼中,大寶法王一行人由德里出發,抵達瓦拉那西「創古智慧金剛大學」主持第九屆噶瑪辯經大法會。
早上將近十一點,嘉察仁波切與創古仁波切即乘車前往機場,恭候法王噶瑪巴的駕臨,下午三點多,通往創古智慧金剛大學道路兩旁即聚集虔誠僧俗信眾,手持白色哈達、鮮花、淨香夾道等候法王噶瑪巴的到來,直到下午四點左右,法王噶瑪巴一行車隊在全體僧眾、信眾的列隊歡迎,以及法鼓、法鑼、長號的吹奏聲中,緩緩進入寺院。
這次除了法王噶瑪巴的常隨職事之外,還邀請了貢噶仁波切一同隨行。
法王噶瑪巴座車停駐於正殿前之後,法王噶瑪巴進入大殿,所有僧眾也跟著進入,開始了緣起吉祥儀式,並按照習俗,供養大眾酥油茶與甜飯。
On December 13th, His Holiness traveled from New Delhi to Vajra Vidhaya Insititute in Varanasi. He was welcomed at the Varanasi airport by HE Gyalstab Rinpoche and the Ven. Khenchen Trangu Rinpoche. A large number of disciples also gathered at Vajra Vidhya Institute to receive His Holiness's blessing.
His Holiness is at Vajra Vidhya to preside over the Karma Gön Chö, a winter retreat for all monks from different shedras (Buddhist universities) who which to particpate in intensive debate and logic. His Holiness began by giving teaching to all the monks on "Tsema Rikchung Gyato" composed by Seventh Karmapa Chodrak Gyatso.
Monks at Vajra Vidhya form a welcoming procession for His Holiness who arrived in Varansi on December 13, 2005
While His Holiness is in Varanasi, HE Gyaltsab Rinpoche is offering teachings to His Holiness on the Zamo Nang Dön. On the 18th of December, His Holiness led a practice of the newly composed "Lama Chopa" (Guru Yoga of 16th Karmapa) by HE Gyaltsab Rinpoche along with HE Gyaltsab Rinpoche, Ven Trangu Rinpoche and all the monks.His Holiness is also giving private and public audience at 11:00am and in the afternoon at 2:00pm everyday.
His Holiness's presence at the Karma Gön Chö to Vajra Vidhya Institute in Varanasi is part of his 2005 – 2006 Winter tour. – Karma Woser Rapten