法王新闻 | 2007年11月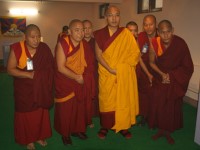 地點:印度 菩提迦耶
時間:2007年11月18日
報導:Tashi Paljor
攝影:Tashi Paljor
11月18日,法王噶瑪巴主持於大乘旅館展出的八世紀古西藏文物展的開幕式。此展覽是由Dzongkar Choede寺所主辦。
18th November, His Holiness inaugurated the exhibition of 8th century Tibetan artifacts by Dzongkar Choede Monastery, on display at the Mahayana Guest House in Bodhgaya.
隨後,法王噶瑪巴至大覺寺向佛陀尊像敬獻法衣。大覺寺的管理委員會菩提巴法師迎接法王一行人的到訪。
Later His Holiness visited the Mahabodhi Temple to offer a robe to the main Buddha statue. Ven Bodhi Pal of Mahabodhi Temple Management Committee welcomed His Holiness.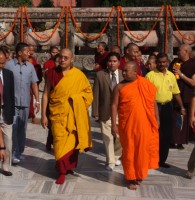 His Holiness visited the Main Temple to make offerings and to circumambulate the Stupa.
---