法王新闻 | 2007年12月
檢視僧眾的威儀測驗
Karmapa Presides at the 11th Annual Winter Retreat for Debate and Logical Study involving Hundreds of Shedra Students (beginning November 12, 2007)
地點:印度 菩提迦耶 德噶寺
時間:2007年12月06日
報導:Tashi Paljor
攝影:Tashi Paljor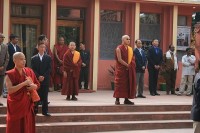 十二月六日,法王噶瑪巴檢視僧眾的威儀測驗。這是所有出席噶舉祈願法會的僧眾都必需確實遵守的律儀軌範。此測驗是由法王所任命,詠給明就仁波切所領軍的律儀糾察師所監考。測試的律儀項目主要為:正確的著衣、禮拜、持缽行走等。
On December 6th , the Gyalwang Karmapa presided over an examination of members of the sangha under a new code of conduct for monks and nuns, which is now mandatory for all members of the sangha attending Kagyu Monlam. The monks were examined by the Committee of Discipline Masters, appointed by His Holiness and headed by Yongey Mingyur Rinpoche. The code of conduct focuses mainly on:

the correct way to wear the robe
the correct way to prostrate
the correct way to walk with begging bowl (lhung-se) in hand
傍晚,法王又再次召集參加噶瑪辯經法會,目前駐錫於德噶寺的的所有僧眾。法王親自指導僧眾們於祈願法會中的坐姿及唱唸時的聲調高低,期能為即將到來的噶舉大祈願法會做更完善的準備。
Later , in the evening, His Holiness called an assembly of all the monks participating in the Winter Retreat for Debate and Logical Study (Karmae Gonchoe), who are presently staying at Tergar Monastery. He personally instructed them on how to sit during prayers and how to recite the prayers with the correct melodies employing the properly concordant rising and falling of the voice, in preparation for the Kagyu Monlam Chenmo.
---