地點:印度 得拉敦
時間:2008年2月27~29日
報導:Tashi Paljor
攝影:Tashi Paljor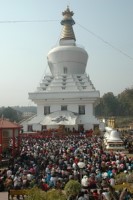 法王停留於得拉敦的敏卓林寺期間,應各寺院之邀請,法王特前往訪問各寺院並給予加持。
27-28 February 2008. During the stay at Mindrolling monastery in Dehradun, numerous area monasteries requested the visit and blessing of the Gyalwang Karmapa.
2月27日,法王拜訪竹巴噶舉傳承的德千確擴林。嘉仁波切向法王獻曼達供。
His Holiness visited the Dechen Choekhorling Monastery, which is of the Drukpa Kagyu Lineage, on 27 Feb. Ga Rinpoche offered Mandala to His Holiness.
2月28日,早上,法王拜訪扎西吉格魯寺。阿拉日都仁波切迎接法王的到來,並向法王獻曼達供。隨後,法王前往直貢噶舉的桑殿圖書館。出家僧眾於大門口,以藏傳寺院傳統之迎賓禮迎接法王的蒞臨。圖書館館長扎西香佩博士向法王介紹圖書館的詳細情形。桑殿圖書館座落在德吉林西藏村的附近。隨後,法王起身前往一所噶舉高級佛學院。
On 28th Feb, in the morning, His Holiness visited the Tashi-Kyil Gelug Monastery. Alak Rigdol Rinpoche received His Holiness and offered a Mandala. Later, The Gyalwang Karmapa visited the Drikung Kagyu's Songtsen Library, where monks and nuns welcomed His Holiness with their Serbangs at the gate. Director of the Library Dr. Tashi Samphel give details about the Library and later visited Kagyu Nang-ten Tho-lop with His Holiness. The Library is situated near to the Dickyi-ling Tibetan settlement.
2月29日,法王應得拉敦所有西藏村之首席代表的祈請給予長壽佛灌頂。此次灌頂所使用的法本為Drub-gyal-ma,傳承源自於惹瓊巴尊者。得拉敦的西藏村居民超過一萬人前來參加此次灌頂法會。
29 Feb 2008. The Gyalwang Karmapa gave the Amithayus Long Live empowerment (Tse-wang) from a text called Drub-gyal-ma, which originated from the lineage of Jetsun Rangjung-pa (one of the disciple of Milarepa). The Tsewang was requested by the chief representative of all the Tibetan settlement of Dheradhun. The staffs of the settlement, students and over ten thousand people gathered from all the Tibetan settlement of Dehradhun.
法王表達了他對保存西藏傳統宗教及文化的關心。法王也談到了環境保護的議題,如森林樹木對大自然以及對我們生命的重要性,法王也懇請大家能多多地種樹。
His Holiness expressed to them his concern with the preservation of Tibetan Religion and Culture, and also spoke about the protection of environment and importance of trees for nature and our lives. The Karmapa appealled to the audience to plant more trees.
灌頂法會最後在法王一一給予信眾加持祝福後圓滿結束。
The Tsw-wang concluded with the blessing from His Holiness individually.
下午,法王驅車前往拉鋪向尊貴的薩迦崔欽法王致敬,傍晚,與薩迦法王共進晚餐。
In the afternoon, His Holiness traveled to Rajpur to pay a courtesy visit and respects to His Holiness Sakya Trizin at his residence. Later in the day, His Holiness Karmapa and His Holiness Sakya Trizin had dinner together.