地點:印度 拉達克
時間:2008年9月13日
報導:堪布秋竹 Report by Khenpo Chokdup. Translated by Tyler Dewar.
攝影:Karma Norbu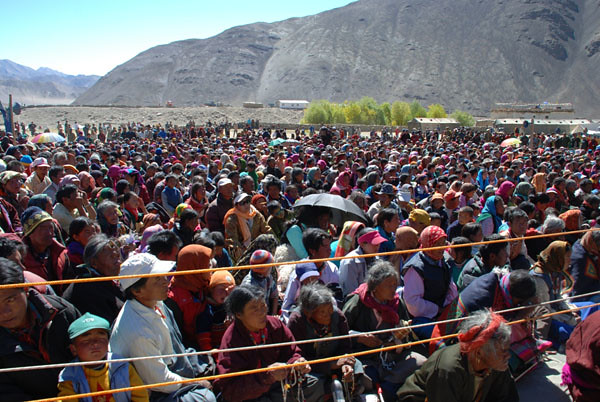 9月13日,早上7:00,法王噶瑪巴於瑪賀寺大殿與全體僧眾舉行煙供法會。
On September 13, 2008, at 7am, His Holiness entered the great shrine hall of Mahey Gompa, where he performed ritual offering ceremonies together with the monks of Mahey. His Holiness engaged in special practices and prayers for the repelling of natural calamities in Asia.
9:00,法王接見前一天未能前來的2,000多位民眾。
At 9am, His Holiness granted a blessing line to over 2,000 people who were not able to receive a blessing the previous day.
10:00,法王給予瑪姬成就佛母的長壽灌頂,灌頂中開示:如何面對生命中的困境,與應該具備的心態;並提及具大利益的口訣,以及三昧耶戒的意義。與會大眾約8,000人。
Beginning at 10am, in the large field adjacent to the monastery, His Holiness bestowed the long life empowerment of Machik Drubpay Gyalmo and gave a talk connected to this empowerment. In his remarks, he gave advice on how to deal with day-to-day difficulties and gave other highly beneficial instructions. He also discussed the principle of samaya. Representatives of Mahey Gompa made 108 symbolic offerings of gratitude to His Holiness at this time. Approximately 8,000 people attended this event.
下午3:00,再次接見前幾次未能前來的百位民眾,圓滿大眾的心願。
At 3pm, His Holiness gave an audience to around 70 people.
5:30,因瑪賀寺住持—─竹本德慶轉世仁波切,離寺前往智慧林寺院接受灌頂與口傳,所以由喇嘛彭措帶領僧眾晉見法王。
At 5:30pm, since Drupon Dechen Rinpoche, the head of Mahey Gompa, was about to depart for Sherab Ling (in Bir, India) to receive teachings and transmissions, His Holiness's entourage, led by Lama Phuntsok, were granted an audience by him.
6:00,法王為漢藏融合作祈願,並撰寫祝禱文。
At 6pm, His Holiness said prayers, and even composed a few lines of verse, for peace in India and Tibet.