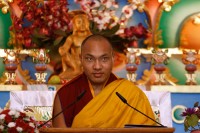 地點:印度 菩提加耶
時間:2009年01月13日 January 14th, 2009
報導:黃靖雅
攝影:噶瑪善治

第二堂課 Session two

下午3:00,由於西方弟子提問非常熱烈,法王繼續進行問答。

There had been so many questions submitted by the audience that His Holiness chose to answer more questions in the afternoon session.

問題一:我們應該如何對沒學佛的朋友解釋「輪迴」和「轉世」?

法王答:先不從佛教的觀點來看。首先,當我們有親人朋友死亡,我們會放不下、捨不得,希望他不是永遠離開,這是人之常情,我們都希望不要和所愛的人「永遠分離」,所以我們其實很自然就會接受和相信「輪迴」。

再來,未知的事情,我們不要先否定,輪迴就是這樣。許多過去覺得未知或不可能的事,現在漸漸都被科學家證實了,也許有一天輪迴也可以被科學證明,在世界各地都有許多小孩子記得前世,他們許多並不是佛教徒,所以我們對輪迴可以懷疑,但不要抱持否定的態度,要有好奇心,不要先否定它的可能性。

再從佛教的邏輯來看輪迴。嬰兒有心識和呼吸,一定有同類的前因,才有延續的存在,有前一口呼吸,才有第二口呼吸;特別是心識的相續性,心識的前一因,必定不是物質性的「色法」,而是心的明覺、心的感知力,否則一切(物質性)色法都可能成為(非物質的)心識了(那就不合理了)。心能明白覺照一切,所以稱為心,從「前一剎那的心識」的邏輯,證明有輪迴。

對大部分的人來講,「輪迴」很難現量直接體驗到,只能用比量推論到。其實透過禪修,我們粗分的心會變細,有些人就可以記憶起前世,聽說催眠也可以。

The first question he answered concerned explaining reincarnation to people who do not have a Buddhist background.

His Holiness began by suggesting that belief in something continuing to exist after a person dies is a common experience of humanity. It was also beyond proof either for or against, although it could be doubted. Further, people exist who remember past lives, not just in the countries where belief in reincarnation is widespread or part of the culture, so then this also cannot be satisfactorily explained away or dismissed. It too falls into the category of things open to doubt.

From the Buddhist point of view there was also a logical argument. When a new born baby takes its first breath there is definitely an awareness or consciousness operating, but this has to be the product of causes and conditions, and causes and conditions have these to be of a similar nature to the effect. Hence, the baby's consciousness has to be produced by similar conditions, a previous moment of consciousness. Observation showed that awareness or consciousness cannot be created by matter, so the only possible cause is another consciousness. Matter has a continuum, if it could turn into consciousness, then all matter should produce consciousness but it doesn't. The nature of consciousness is awareness and knowing. So, generally speaking, the main point is that the matter continuum and the consciousness continuum are separate.

These days people are more materialistic so it can be difficult to demonstrate the mind continuum though there might be methods – meditation is one. In meditation, gross consciousness becomes more subtle and then you can remember your past lives. You can experience certain memories of the past.

問題二:尊貴的法王,請解釋什麼叫「對治法」,並請舉例說明。

法王答:對治法有兩種,一種是真正的行動,一種是修心。譬如施受法(自他交換法),觀想眾生的惡業如同黑煙一樣,被我們吸進來、被我們承擔;再觀想自己的善業如福德、長壽等如同白煙呼出去、給出去。有人說,修了「施受法」(吸了別人的黑業、病氣)會打噴嚏、流鼻水,要知道修這個法重點是心的改變,而不是身體。要觀想心裡有盞代表我執我慢的油燈,當他人的黑業一吸進來,我執的油燈就吹熄了。

如果佛陀一修施受法就感冒、流鼻涕,那他豈不是要一卡車的衛生紙?那阿難陀、舍利佛那些大弟子,豈不是一天到晚要幫佛陀處理擦鼻涕的紙?

當我們修施受法,隨著呼吸觀想,呼出去的時候,把福德給眾生,重點是要有布施的心,給完就不會覺得空空的,而是覺得很富足,因為那是把東西給了所愛的人,留下的是更珍貴的光明和歡喜。

有人覺得把好的都給別人,不好的留給自己,那我不是吃虧了?但什麼是吃虧呢?真正利益到別人就不是吃虧。譬如器官捐贈,你有兩顆腎,現在有個人需要一顆腎才能活下去,你會很高興的捐給他。但那要看實際的狀況,不能說因為你是大乘菩薩道的行者就非做不可,「如果你沒有布施的心,那你就會後悔」,那就不好了。「帶著利他的心做,才是最重要的。」

The next question concerned the meaning of "giving the victory to others" Gyalwang Karmapa suggested there were two aspects to this. The first was to actually implement it – to act it out. The second was training the mind so through meditation experience – such as tonglen, which involves taking on the negativities of others, and then exchanging them for our own merit.

His Holiness explained the visualization to use. Imagining our self-interest and selfishness as a fire or light burning in our hearts, we take in the suffering of others which is envisaged as darkness, so that the fire of self-cherishing is extinguished by the darkness. This powerful visualisation slowly changes our attitude. The second part involves giving our own merit away freely to others, because we really want to give it. In reality, we are neither taking on their suffering nor actually losing our merit, but training the mind.

There were instances when such generosity had a practical application too, such as offering a kidney for a kidney transplant, but we had to have a clear understanding, having examined the situation fully. If we were able to give the person a kidney and thereby save their life, such an act would make us very happy. Another example would be when two people were competing for the same job. Should you let the other person have it? Only if you could do so from your heart, rather than because you felt forced to do it or you were supposed to do it.

問題三:大家都越來越忙,時間越來越少,要怎麼修行?

法王答:聽說在紐約,你不用看日曆,只要看看窗外,看人群移動的速度,就知道今天是周間上班日,還是周六日的假日。我也感覺到時代越進步,節奏越快,人似乎快趕不上了。我到美國訪問時,住在一個很高的大樓,四周一看都是水泥叢林,人的動作都很快,好像到了未來城市。

「心要放鬆、調柔,這是最重要的。」我們要工作,但要隨時讓心休息,讓它有彈性,這樣再忙也是可以的。我也很忙,雖然都是在寺院裡面,但也有忙不完的事,一旦找到讓心平靜、調柔的方法,外面再忙,心還是可以自在的。

無論再忙,都要有正念和正知,就像有人掉進大海,要告訴自己我會游泳,然後努力朝岸上游去。有了正知正念幫忙,你就會像在上空俯看這一切,就像個遊戲,你就會看清楚自己的位置和角色。

The next question concerned how to live in a city without feeling lonely.

Drawing on his experiences during his American tour, Gyalwang Karmapa discussed the feelings of dislocation and isolation that modern life brings. He wryly remarked that in New York there was no need to consult the calendar if you wanted to know whether it was the weekend or a weekday, because on Saturday and Sunday you could see people talking to each other on the street. The rest of the week they were too busy to interact.

It seemed that life was getting faster and faster. In America, it felt as if you'd only just started your journey and you'd arrived. His first day in America in New York at the Waldorf Astoria, he had looked out of the window and he couldn't see the ground, it was so far below. That felt very strange.

His Holiness suggested that in the busy-ness of modern living, we had to find time to rest our minds. He himself was increasingly busy but he managed to maintain a relaxed and peaceful mind. We had to learn to pace ourselves. He gave the example of a horse. A horse can run faster than a man, but, if the man trots along at a steady pace, eventually the horse will tire and the man will catch up with it. If we were unable to stay mindfully aware we could be overwhelmed. For instance, if someone fell in the river and panicked, they could drown. If, on the other hand, they kept their heads and stayed calm, they could reach the river bank and survive. Maintaining mindfulness could reduce stress.

問題四:一個初學者可以馬上學觀音儀軌?或者要先經過一些教導?

法王答:首先要經過灌頂,它是一個介紹和引導,生起次第和圓滿次第的口訣,都在裡面了,如果你專注諦聽就可以了解,那就可以開始修了;如果沒有,直接修,就不好。

The next question was about the Chenresig Practice for new dharma practitioners. His Holiness said it was important to receive the empowerment ( Tib. wang) first before beginning any Vajrayana practice. Then it would be helpful to receive some instructions and clarification of the teachings behind the practice. He thought that if the person didn't get either the empowerment or the instructions, to practice Chenresig might not be so useful.

問題五:我了解貪慾的根本來自我執,也了解佛法是為了利益一切眾生,但有時覺得這兩者同時存在我心裡,該怎麼辦?

法王答:經典上說,佛陀以他的禪定力,到一個貪慾聚集的市集,所有人的煩惱都會止息,這是二乘人做不到的。我們可以做的是,一早起來,就對世界投射一個心念,希望每個人都不生煩惱。有些人喜歡打扮,如果為了吸引別人、引起別人的貪慾而打扮那就不好,我們應以慈悲和善為莊嚴而打扮。我們要盡力做自己能做的,譬如比哈爾省不乾淨,我們可以自己把垃圾撿起來,丟進垃圾桶。

Many of the questions focused on issues arising from everyday life in the West. His Holiness was asked for advice on how to deal with other people's attachment and self-interest in the workplace.

He responded by describing how the presence of a Buddha pacifies the disturbing emotions of those around, because the Buddha has completely done away with negative emotions and is totally aware. Sravakas make an aspiration prayer that nobody gets disturbed by their presence, so people are not so affected by negative emotions around them

We take time on our appearance so that people find us attractive; it is just as important to present our positive mental qualities, our loving kindness and caring for others, so that our presence does not arouse their negative emotions. We can also set an example by our behaviour, which might have an influence on the people we work with.

問題五:敬愛的法王啊,為什麼有些人好看、有些人不好看?有些人耳朵大、有些人耳朵小?(現場大笑)為什麼每個人都有特徵,這是為什麼?

法王答:我們藏族的老師,喜歡拉學生的耳朵,所以藏族的耳朵都比較大;聽說在漢地,因為佛陀的耳垂很長,就認為耳垂大的福德也大。

業力有身語意業三種,由心會展現不同的相,身語意常保和善,你就會有個美好的相,觀音菩薩總是微笑看著眾生,因為他身語意都是善的,當你身語意都和善了,你的身形外相也會變好。(接著法王開玩說,我擔心我總是不笑,接著不知道相貌會怎樣,還好我有顆善心。)

Laughter echoed round the hall at the next question – why do people look the way they do?

His Holiness told how Tibetans say people with big ears had them pulled by their teacher when they were young. Chinese Buddha images have big ears, because they are meant to be very graceful. But whether you have big ears or little ears will depend on several things, your race, and the environment, and also karma, which affects the three aspects of body, speech and mind.

Generally, it is taught that the karma of body and speech create the conditions for a better looking body. That is why Chenresig is always smiling , because he has done so many virtuous actions of body and speech. His Holiness paused. "It is said that I don't smile much, so I'm worried about what I will look like in future!" he joked.

問題六:法王您曾提到說,佛陀證悟時,大地為證,請問這是什麼意思?

法王答:第一點,大地是一切有情、無情的基礎,是一位平等的母親,平等地承擔、養育一切,所以它是最有力的證人,證明佛陀的證悟。

第二點,佛陀的利他事業,都在這大地上,所以大地可以為他作證。

The next question was about the meaning of Buddha claiming the earth as witness to his enlightenment. Gyalwang Karmapa explained that Buddha said that the earth is the basis of all beings. The earth is also totally neutral, like the mother of everybody. The Buddha attained enlightenment, touched the earth, and the earth shook six ways.

問題七:地球上有一半是女性,度母也發願以女身成就,但也有經典說要「轉女成男」,怎麼辦?

法王答:(開玩笑的)你也可以早上是度母,晚上是男性,這樣是很好的平衡。

利益眾生,就是給他他需要的。經典上之所以說要「轉女成男」,那是因為過去在印度社會,女人身分很低下、過得很苦,女人都不想當女人,有這樣的心聲,經典是呈現這樣的心願。度母知道男女平等的重要性,所以她發願以女身證悟。

重點是怎樣才對眾生有利,我就發怎樣的願,有熱情也很重要,你要確信你投身為女人修持成就可以利益女人,這樣這個願才會成辦。

Finally, there was a question about one of the prayers which included the request to be born as a male! Did this not conflict with Tara's aspiration to attain enlightenment in female form?

His Holiness first pointed out that the prayer in question reflected what people desired, and that wishing to be born male was a relic from the days when women had very low status and little control over their lives. Thus they desired to be reborn as a man. We could pray for whatever we wanted, and in the case in point it was important to distinguish between actual Buddhist thinking and people's wishes. He suggested that, if we wanted to, we could pray for all men to be reborn as women, which provoked much laughter, so long as there was a good reason for the aspiration and it was based on the wish to benefit others.

Thus the second day concluded.