法王新闻 | 2009年11月
出席TED 會議發表演說
Gyalwang Karmapa Arrives in Bangalore City for TED India
地點:印度 邁索爾 Mysore
時間:2009年11月1-11日 November 2, 2009
報導:Tashi Paljor
攝影:Tashi Paljor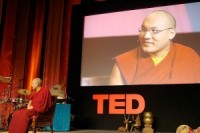 11月1日,法王噶瑪巴啟程前往新德里,將出席TED於印度邁索爾舉行的,從11月4-7日的三天會議,法王受邀發表演說。(有關TED組織之演說活動請連結:http://conferences.ted.com/TEDIndia/program/speakers.php )
His Holiness Karmapa left Dharamsala on November 1st for South India. He will be attending the TED India conference as a speaker from November 4-7 at Infosys in Mysore.
11月2日,法王噶瑪巴一行人抵達班加羅爾市,南區噶舉委員會和南印度藏人團體於機場熱烈歡迎法王的抵達,許多藏族人民和信徒也在場迎接法王。
His Holiness arrived in Bangalore city on November 2nd. The South Zone Kagyu Committee and South India Tibetan Settlement Association welcomed His Holiness upoun his arrival at the airport. Many Tibetan people and devotees were also present to greet His Holiness. His Holiness will be engaged in the TED India conference from November 4-7 in Mysore.
法王將出席於11月4-7日在邁索爾舉行的會議,於11月8日,法王將在班加羅爾市的西藏青年旅館給予藏人社區居民及學生們佛法開示。11月10日,法王噶瑪巴將在新德里給予佛法開示。11月11日,法王將返回達蘭沙拉上密院結束此次的南印度行程。
On November 8th, His Holiness will give teachings to the Tibetan community and students at Tibetan Youth Hostel in Bangalore city. On November 10th, Karmapa will give teachins in New Delhi, and on November 11th he will return to Gyuto, Dharamsala.
圖片來源:http://www.flickr.com/photos/tedconference/4081904357/
Upcoming Nov 1-11 Program Schedule for His Holiness Gyalwang Karmapa
November 1-11, 2009 – Mysore, Karnataka & Delhi
Nov 1: HHK leaves Gyuto. Arrives in Delhi.
Nov 2: HHK leaves Delhi. Arrives in Mysore.
Nov 4-7: HHK attends TED conference as a speaker and participant.
9:00am-3:00pm
Infosys Campus, Mysore, Karnataka
Nov 8: HHK leaves Mysore. Arrives in Bangalore.
HHK visits TCV Institution
HHK visits Tibetan Hostel
Srinivas Galu, Vivek Nagar Post, Bangalore city
Event includes giving blessings & teachings to the Tibetan people and Tibetan students
Nov 9: HHK leaves Bangalore. Arrives in Delhi.
Nov 10: HHK Gives a Dharma Teaching
As requested by Mrs. Palzees, Ongmo, Hon'ble Member, National Commission of Minorities, Govt. of India
Nov 11: HHK leaves Delhi. Arrives in Dharamsala. Returns to Gyuto.
---