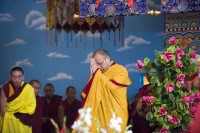 地點:印度 菩提迦耶 德噶寺 Mahabodhi Stupa, Bodhgaya
時間:2009年12月20日 December 20, 2009
中譯:堪布丹傑
報導:黃靖雅
攝影:噶瑪善治、噶瑪諾布
法王禮佛三拜
梵文三皈依
藏文《隨念三寶經》、《心經》
獻曼達(法王姊姊代表向法王獻供,大眾再一起修持獻曼達)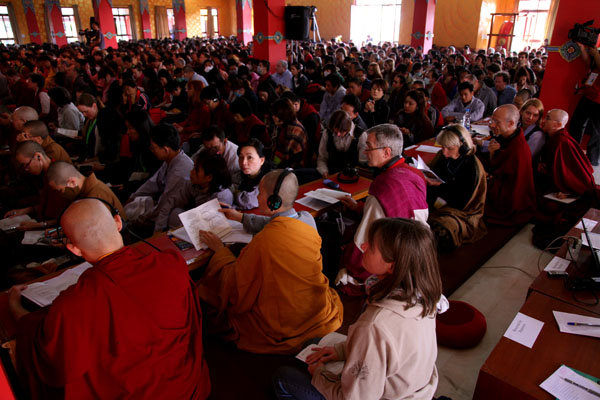 上午7:00,德噶寺大門打開。

左手腕綁著五色金剛繩,胸前掛著各色五方佛唐卡,配戴著四個祈願logo組成的徽章,依五色分成五組的僧俗二眾,在義工引導下,依序進入德噶寺大殿,法王 噶瑪巴今年的「外國弟子課程」,終於在不遠萬里而來的弟子期待中,上場。

為期三天的法王噶瑪巴「外國弟子課程」,今天12月20日起,以每天上午9:00 -11:00、下午3:00-5:00兩堂課,進行三天,至22日止,有來自52國的1 ,500位東西方弟子,齊聚一堂,聽聞法王 噶瑪巴開示。德噶寺大殿課程現場,有九國譯師,以FM收音方式同步為各國弟子翻譯,讓法王同時「悉以諸音而說法」。

The following summary of the morning's teachings is based on Ringu Trulku Rinpoche's translation from Tibetan into English, except where the Gyalwang Karmapa spoke directly in English.

The teachings should have begun promptly at nine o'clock. Gyalwang Karmapa was seated expectantly on his majestically high, intricately carved and gilded throne. The sound crew was confident. Hours of preparation had gone into setting up the sound system: microphones, speakers, and the FM translation transmission system. At the final dress rehearsal everything had worked perfectly, but now suddenly, it took on alife of its own and began emitting high-pitched squeals, squeaks and whines. The audience sat patiently while the sound crew dashed back and forth, fretting over banks of equipment, antennae, cables and microphones. His Holiness smiled, pulled faces, and tentatively tapped his microphone. Finally the problems were resolved, and the teachings were under way.

《龍樹親友書》,教導六度波羅蜜

法王開示:今天要為各位講解的,是龍樹菩薩著作的《龍樹親友書》(本次課程中文版使用唐朝義淨法師古譯本)。

今天為什麼要講《龍樹親友書》呢?因為這本書主要在講在家如何修持,在印度以前佛法興盛時有一種傳統,就是如果一個在家人想開始學習在生活裡行持戒律,他會學習《龍樹親友書》,為了不讓傳統壞失,也為了讓各位將佛法與生活結合來修行,所以今天我要講這部重要的論頌。

《龍樹親友書》的內容,主要重點是講「六度波羅蜜」,也在宣說輪迴過患,以及涅槃利益等等內容。

Having greeted everyone warmly, Gyalwang Karmapa explained why he had chosen this particular text – Nagarjuna's Letter to a Friend – because, not only did it thoroughly cover the philosophy of Madhyamika, but it was mainly an instruction for householders on how to practice dharma. In ancient India householders who held the five precepts would study the text. It was His Holiness' hope that this teaching would provide a new perspective for laystudents on how to be a householder and practice the dharma at the same time. A new edition of the text, containing the original Tibetan and translations into Hindi, Chinese, Korean, Spanish, English, French and German, had been published specially for the occasion. He pointed out the illustration depicting Nagarjuna on the front cover which he himself had drawn and wryly commented that some people had complained, "The face doesn't show much character and the body looks like a rock." He explained that, although he hoped to be able to go through the whole text, there would not be enough time to cover all the stanzas, so his objective would be to convey the essential meaning, stopping to elaborate on some points in detail but glossing over others.

關於作者龍樹菩薩

龍樹菩薩是位具有甚深般若證量的大師,創建了甚深中觀見。他顯密都很精通,在顯宗密續都有許多重要著作,其中顯宗著作中,最著名的就是《中觀根本論頌》,《般若十萬頌》、《般若八千頌》注解,即是他的覺受、他對般若實相的淨觀。藏傳說他到龍宮,取出龍宮所藏許多人世間未見之經典,再寫成人間文字,《般若八千頌》即是在其時出現。

Turning to the text, Gyalwang Karmapa then read and began his commentary on the first three verses which form an introduction to the teaching and more detailed instructions, and request people to listen to the teachings.

第1偈 Stanza One:
具德我演如如教,Listen now to these few lines of noble song
為生福愛而興頌,That I've composed for those with many virtues, fit for good,
真善宜應可審聽,To help them yearn for merit springing from
此頌名為聖祇底。The sacred words of He Who's Gone toBliss.

這一頌中所說的「具德真善」之人,指的是龍樹菩薩的親友樂行國王,但也可以指我們每個人,只要我們能聽聞佛陀教言,並且實際去修持,都是「具德真善」之人。「如如教」是善逝佛陀教言;「聖祇底」,是聖人之言。整偈的意思是:

為了您這位具有功德的真善之人,

讓您能生起善功德,我造了這部論頌, 請您好好諦聽呀, 這部論頌所說的,都是佛陀的「聖人之言」。

The Karmapa explained that its author, Nagarjuna, was a great scholar who, it is said, lived during the 1st or second century CE. The main exponent of the Madhyamika school of Buddhist philosophy, he wrote Letter to a Friend, a text focussing on the six paramitas, to his friend, a South Indian king called Surabhibhadra. This is one of the many texts written by him preserved in Tibetan literature, which include several commentaries on sutra, and other important texts on tantra, demonstrating that he himself was practising both. It was he who composed the Mula-madhyamaka-karika which is the foundational text on Madhyamika. It was he who brought the Perfection of Wisdom sutras to the Mahayana tradition. There are two accounts of how this happened. One tells how the King of the Nagas gave these books to Nagarjuna. The other, found in a Chinese souce, is from a biography of Nagarjuna written by the great Indian scolar, Kumarajiva, who travelled to China and translated many Buddhist texts into Chinese. According to Kumarajiva, Nagarjuna had a vision in which he entered a jewelled palace where he met a great boddhistatva who showed him many caskets, containing sutras which he had never seen before. When he rose from this vision he wrote down what he had read —the 100,000 Stanza Perfection of Wisdom Sutra.

Although the letter was written specifically for the king it also applies to others as well, including ourselves, commented the Gyalwang Karmapa. In the first stanza Nagarjuna says that all his instructions come from the sacred words of the Buddha himself and from no other source, and their purpose is to generate the yearning to do the positive.

第2偈 Stanza Two:
隨何木等雕佛像,The wise will always honour and bow down
諸有智者咸供養,To Buddha statues, though they're made of wood;
縱使我詩非巧妙,So too, although these lines of mine be poor,
依正法說勿當輕。Do not feel scorn, they teach the Holy Way.

這一頌意思是說:

不管用什麼木頭來雕刻佛像, 所有有智慧的人都會供養,(因為所雕的都是珍貴的佛像); 所以縱使我寫的詩偈並不巧妙, 但這是依正法所說,您千萬別輕忽呀。

Even if a statue of Buddha is not made of precious materials, wise people still honour the image. Similarly, though these instructions were written by a simple monk, the source is the Buddha, so it is worthwhile listening to them.

第3偈 Stanza Three:
王雖先解如如教,While you have surely learned and understood
更聞佛語增勝妙,The Mighty Buddha's many lovely words,
猶如粉壁月光輝,Is it not that something made of chalk
豈非鮮明益姝妙。By moonlight lit shines glowing whiter still.

這一頌意思是說:

善逝如來的教法,不管是否曾經聽聞過,再次聽聞都是有助益的, 國王您之前雖已了解佛法, 再次聽聞,對您的修行更有幫助,這是非常殊勝美妙的; 就像月光照耀在白色的粉牆上, 豈不是更鮮明美麗嗎?

到這一頌的前三偈,是「前行」。

(此時,法王發現台下大眾因為FM收訊不穩定,而有頻頻調整耳機、張望譯師席的情形,提醒大眾:「嗯,這是禪修安忍的好時機。」)

The text refers to the Great Muni , the one of great capacity who can defeat the kleshas, the afflictions,so Nagarjuna says that even though you may already know the teachings of the Great Sage, it is worth heeding these verses because a chalk or plastered building gleams clearly and brightly in moonlight.

His Holiness explained that it is important to know about what we don't know, but even the things we know have to be internalised. This is the threefold process of hearing or studying, thinking, and meditating. Initially we have to study, applying our wisdom and our intellect.

第4偈 Stanza Four:
佛法并僧眾,Six things there are the Buddhas have explained,
施戒及與天,And all their virtues you must keep in mind:
一一功德聚,The Buddha, Dharma,Sangha, bounteous acts,
佛說應常念。And moral laws and gods-each one recall.

以下是進入「正行」。這一偈,是講佛說「六隨念」,意思如下:

隨時憶念佛法僧三寶, 隨念布施、戒律及天人(因善行所生的善果), 每一種隨念都會聚集功德, 所以佛說我們應常常作這六種憶念。

The fourth verse introduces the actual instructions, which are organised into three main topics. The first topic is the practice of positive virtues, the second is understanding the nature of samsara and feeling renunciation, and the third is seeing the benefits of liberation. The first general instructions are common to householders and monastics: six things to be mindful of the Buddha, the Dharma, the Sangha, ethical behaviour, giving, and deities.

Gyalwang Karmapa stopped momentarily and surveyed the assembly hall, then commented in English on the fact that the traditional tea was not being provided during the foreign teachings.

"No tea break, " he observed, "I hope my words become tea."

我們常說「我皈依成為佛教徒」,但是否仔細想過:「什麼是皈依?」、「什麼才是真正的佛教徒?」

在印度,對所謂「皈依」和「佛教徒」本來沒有嚴格定義,直到阿底峽尊者對「皈依」作了清楚的定義,大家才明白什麼是「真正的佛教徒」。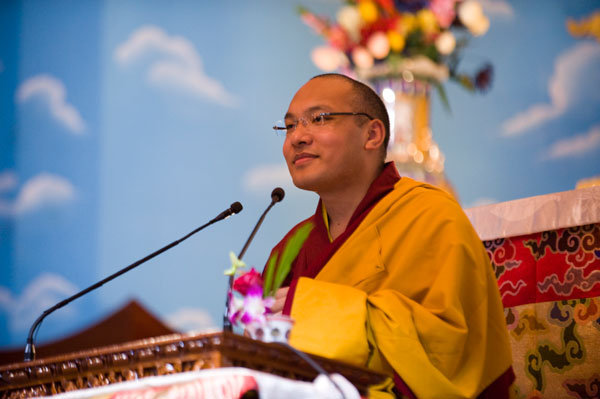 皈依必須具足三部分:
一、人(求皈依者):就是我們。
二、皈依對境:皈依的對象,指佛、法、僧三寶。
三、皈依方式:分動機和行為。
一、求皈依者
第一項「求皈依者」又可分為以下三種,這不是指階級,而是指發心:
1. 下士夫:擁有下等發心,恐懼三惡道的苦。有人嚮往成佛,也想要解脫痛苦,但卻相信只此一生,不相信有輪迴,這也算「下士夫」。
2. 中士夫:擁有中等發心,想出離輪迴,特別是想解脫「行苦」(心流變動之苦)。
3. 上士夫:擁有上等發心,為解脫輪迴眾生苦而求皈依,這是菩薩的發心。
我們要捫心自問,誠實的看看自己是屬於哪種「士夫」,這是「自己和自己的溝通」,面對自己真實的狀態,不必勉強,否則反而會成為修行的障礙。
He then began to discuss the meaning in the Buddhist tradition of taking refuge in the three objects of refuge: Buddha, Dharma and Sangha.
There was a further exchange at this point between the Gyalwang Karmapa and the audience because at the FM transmission stopped working properly and members of the audience were gesticulating anxiously that they couldn't hear.
"Can you hear me?" asked the Karmapa, looking down over the audience, who shook their heads. When he realised that they couldn't hear the translations, he quipped in English,"Is it the FM not working or the mind not working?" Everyone laughed. He then advised us to try to meditate on patience while the sound crew worked to rectify the problem.
A few minutes later, the teaching resumed and Gyalwang Karmapa continued his commentary on taking refuge. He said that generally it can be difficult to differentiate between Buddhists and non-Buddhists, but that refuge, if properly understood, provides a demarcation line. Three things had to be considered: the person who takes refuge, the objects of the refuge, and the nature of the refuge. With reference to the first, those who go for refuge can be categorised according to the three capacities of beings. Those of small capacity take refuge with the motivation that they do not want to suffer in the lower realms. Those of medium capacity have understood the nature of samsara as suffering or unsatisfactoriness and wish to liberate themselves. Those of great capacity , because of their immense compassion, are motivated by the wish to liberate all sentient beings from samsara.
Earlier, during the Gunchoe teachings His Holiness had raised the question whether those who do not believe in rebirth can be classified as Buddhists. He now returned to this dilemma again, questioning whether it was possible or meaningful for people who do not believe in rebirth and cyclic existence to take refuge. He was unsure what its function could be for such people. He also clarified the purpose of differentiating between people of different capacities. It would be wrong to think in terms of one being better than another, which might lead us to try to do something beyond our capability. The categories were there to help us. We needed to examine our own mindstate and decide which was the most suitable starting point for us. Then we would be able to make a natural progression, step-by-step, based on our aspirations at that point in time. It would also be wrong to look down on others because they had different aspirations.
二、皈依對境
皈依的對象,就是「佛法僧」三寶:
1. 佛:「佛寶」主要是指化身佛釋迦牟尼佛,他和我們一樣都是一個人,都是靠自己努力修持才成佛,他降生於人間,誕生在王宮中,受用繁榮富貴,而後看到生老病死的顯相而生起出離心,繼而出家修苦行,最後證得無上正覺,證覺後在鹿野苑開顯「苦集滅道」的四諦教法,教導眾生解脫輪迴、涅槃寂靜之道,所以我們應皈依他。
「佛」這個字,藏文叫「桑給」,包含兩個意思:
一是「醒覺」:即從各種覆障中醒覺;
二是「開啟、增長」:指智慧和力量開啟並增長。
「佛」的梵文,讀音是「Budha」;而梵文的愚癡者,讀音是「Budu」。(法王開玩笑地說)兩者相差一個音而已,「去掉u音,就成佛啦。」
2. 法:是指佛所說教法,又分為教證二法:
一是「教法」:為佛所說之法;
二是「證法」:則是五比丘聽聞佛教法之後,經由實修,在心流之中,無我智慧生起,此時「證法」即出現。
法寶包含兩種,即四諦中的「滅諦」和「道諦」:
一是「滅諦」:就是業、煩惱、痛苦的寂靜、涅槃、出離,就像《中觀根本論頌》說:「當一切業煩惱到達邊際,此即滅諦」。滅諦是沒有煩惱,但不是空空的,什麼都沒有,這個「滅」字,本身具有「善妙」之意,就像病好了,得到健康,這種健康是很美好的;同樣的,煩惱消除了,就得到心靈健康,更是非常善妙。
二是「道諦」:就是幫助我們從輪迴中完全出離、到達寂靜涅槃的修持方法。
3. 僧:是指同時具有「教法」與「證法」,擁有「滅諦」和「道諦」的聖僧。
Moving on to the objects of refuge, the Gyalwang Karmapa first considered the historical Buddha. Born more than 2500 years ago, a prince who enjoyed a protected life of luxury, he renounced samsara, underwent hardship during six years of meditation, then finally achieved enlightenment. This, he explained, is the biography of the Buddha as a human being, a bhikkshu who then became a Buddha. The Tibetan word for Buddha – sangye – has two parts: sang means to awaken from ignorance and gye means vastness in the way that mind or wisdom becomes vast.
At this point Gyalwang Karmapa made a Hindi/Sanskrit pun. In Hindi the word budhu means idiot, but change the spelling slightly and the word becomes buddha, thus we can all become Buddhas from budhus.
The supreme emanation Buddha revealed the Four Noble Truths to his five disciples in Sarnath, and at this point they experienced the true Dharma. The Dharma has two parts: true cessation and true path which means the experience of liberation and the path. Cessation occurs when all karma is exhausted and negative emotions completely extinguished. His Holiness emphasised that cessation was not to be understood in a nihilistic way, as a form of annihilation, but rather as a completely joyful experience, similar to the feeling of relief and well-being we experience on becoming completely well after a long, painful illness. The true path is the clear realisation that leads to freedom.
三、皈依方式
皈依的方式,分「發心」和「行為」:
最重要的是皈依的發心,皈依之因有恐懼和信心兩種:
1. 皈依之因一:恐懼
這是對輪迴苦,尤其對三惡道苦深懷恐懼,而想出離的發心。這裡「恐懼」不是指「嚇得發抖」,而是指「厭離」的心情,覺得輪迴「夠了,這樣下去沒意思,不想再這樣下去了!」
這個恐懼的對象,是指對輪迴,而不是指三寶和上師。我們對三寶、上師,就像身陷困境時,有人伸出援手,那樣自然地生起敬信之心;而不是像看到國王,嚇得要死。有人會對給予灌頂的上師,因為有三昧耶戒,覺得有破戒的壓力而生起恐懼,其實上師是我們生生世世的朋友,要有這樣的了解,了解皈依對象的功德,生起歡喜心而皈依,這才是如法、純淨的皈依。
2. 皈依之因二:信心
了解皈依對象的功德而自然生起信心,是最好的;有些人則是並不很清楚,只是環境薰習,從小家裡、父母拜佛就跟著拜,自然就跟著相信了,這也是行的。
這種信心,不是迷信,也不是盲目的依賴,覺得皈依之後,就什麼都不必做了,「反正佛是大悲、遍知者,他什麼都會幫我做好好的」,衣服髒了,以為佛會一手拿刷子、一手拿肥皂來幫你洗衣服;蚊子滿天嗡嗡叫,你就祈請「大悲遍知佛呀,請快來幫我趕蚊子」;考試前沒讀書,也只會祈請「大悲遍知佛呀,我考試就靠你了!」祈請完什麼都沒背就跑去睡覺,結果當然是──得到一個鴨蛋!
佛只是給一個訊息,那個訊息就是「法」,得到法之後,要自己去實修,才能真正解脫。也許有人會問:「如果要靠自己修,那還要三寶做什麼?」因為我們還要學習,學習需要有一個學習的對象,需要有人教導。
所以皈依三寶之後,修行還是要靠自己,要有自己的努力。
南傳的經典中提到,「如果有人只有一點點戒定慧三學的修持,對此一點點知足,有一點點斷的功德(斷除煩惱),就可以說是聖僧,因為這些善功德,就像十善,會不斷增長,終究帶領我們前往證悟。
(法王帶領大眾念誦〈觀音修持儀軌〉迴向,結束第一堂課)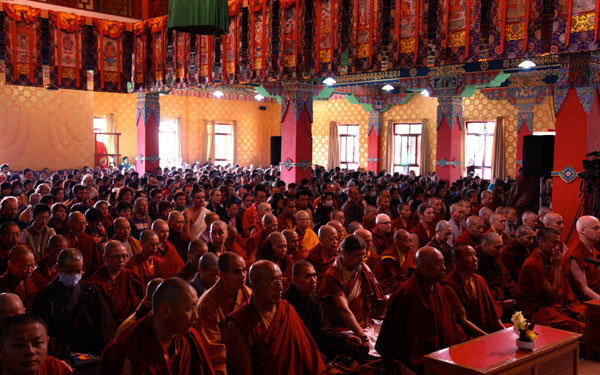 Finally, the third object of refuge, is the noble sangha which means those who have experience of cessation and the path.
As to the manner in which we take refuge, there are three things to be considered: our motivation, the depth of our refuge which depends on our motivation, and the level of our faith and devotion.
When we understand and appreciate the suffering of the three realms, the fear of this suffering propels us to seek liberation from samsara and pursue enlightenment. It is important to understand that 'fear' here refers not just to being frightened but also includes realizing the disadvantages of samsara. Having seen its negative side, we have the conviction that we must free ourselves from cyclic existence. His Holiness warned that to be ruled only by fear was the road to madness. It was also essential to clearly understand that there should only be fear of samsara; the objects of refuge should never become a source of fear. Indeed they are the source of fearlessness. The question of fear also applies to the samaya relationship between guru and student in the Vajrayana tradition. The guru should be viewed as our best friend who will always help us in whatever situation we find ourselves, so, in one way, it is inappropriate to have fear of the guru with regard to breaking samaya.
With regard to faith and devotion, His Holiness observed that though foreign disciples usually go through a process of examining the Buddhist teachings, becoming convinced and then taking refuge, and consequently their faith is based on a clear understanding, there is often a different process at work for Tibetans and those who have been born into Buddhist families. Such people may not have `gone through this thought process, but may have developed great faith and devotion. However, when we consider faith and devotion, it is crucial to have a correct understanding of how the objects of refuge help us; if this is misundertoood, there may be many problems. Faith can degenerate into blind faith and superstition. His Holiness illustrated this point effectively and humourously, giving three examples of blind faith in action. For Buddhists the Buddha embodies compassion, loving kindness and blessing, but a person of blind faith may suppose that the Buddha, out of his great compassion, will take care of everything. Someone who flings their dirty clothes into a corner, thinking the Buddha will wash them, will end up with a pile of dirty laundry. When crowds of mosquitoes are buzzing around, someone who believes that Buddha will protect them from being bitten, will end up being badly bitten. A school student who relies on blind faith in Buddha rather than studying hard to pass their exam will get a zero. The Buddha taught the way but then we have to practise it. The Buddha is in a different world – the pure realm—and cannot transform us into enlightened beings. We have to do the work ourselves. If you then ask, why do we need the Three Jewels, the answer is that we need to know the way and we need someone to instruct us. Buddha shows the way, and we have to follow that path, work hard ourselves and then there will definitely be a result. Once we have taken refuge, we still have to work on ourselves.
Who then are the noble sangha? In the Hinayana sutras it states that someone who upholds ethical discipline, who has achieved a degree of meditative stabilisation, has generated some wisdom and is contented, and has abandoned the afflictions, can be called one of the noble sangha. They have entered the path, and if they continue to practise the ten virtuous actions they will attain enlightenment, without a doubt. Because of their qualities, the ten virtuous actions will continue to grow and increase.
In the end, the final result depends on us.