法王新闻

|

2018年03月
时间:2018年03月16日
地点:美国纽约

法王噶玛巴周五来到苏富比"亚洲周"。涵盖了整个大陆3500年艺术史的"亚洲周"刚刚开幕。法王特别感兴趣的是 看到了12世纪至19世纪的喜马拉雅艺术收藏,包括许多藏族杰作。
法王驻足在一副宏伟的16世纪唐卡前面,这副画的右边是某一世噶玛巴——让炯多杰。 在画廊的其他地方,法王看到一个口袋大小的噶玛巴镀金铜像,非常适合旅行携带。法王还参观了中国画和艺术品画廊。
对于苏富比的印度和东南亚部门负责人Anuradha Ghosh-Mazumdar来说,这次访问是一次意外的惊心动魄的邂逅。 "我无法描述他在场的感觉,"她说到, "他散发着内心的平静,伴随着更高的精神意识和控制力。"Ghosh-Mazumdar指出,噶玛巴本人是一位有成就的艺术家,主要创造唐卡。所以他能够从艺术以及精神的角度欣赏亚洲周的物品。 "他喜爱这些展品,"她总结道。 "这是最令人惊讶的事情。
His Holiness the Karmapa Comes to Sotheby's for Asia Week
by Anthony Calnek | 19 Mar 2018
There are scores of depictions of holy figures on view at Sotheby's during Asia Week, but on Friday we welcomed one of Tibetan Buddhism's holiest leaders in the flesh. Ogyen Trinley Dorje, the 17th Karmapa Lama, was visiting the New York area as part of a Tibetan New Year celebration. The 32-year-old spiritual leader of millions stopped by Sotheby's New York galleries where Asia Week, which covers 3500 years of artistic history across the continent, had just opened. He was especially interested in seeing the Ernst Collection of Himalayan Art, which spans the 12th to the 19th centuries and includes many Tibetan masterworks.
His Holiness stopped in front of one magnificent 16th-century Thangka (a traditional Tibetan Buddhist painting) which depicts Palden Rinchen surrounded by a heavenly retinue that includes one of the Karmapa's predecessors: just to the right, wearing the black hat that signifies his office, is Karmapa Rangyung Dorje. Elsewhere in the galleries His Holiness would have seen a pocket-sized Gilt-Bronze Figure of a Karmapa, perfect for a traveling lama; the present Karmapa lives mainly in India, but is on a plane all the time to visit his global following. Sino-Tibetan politics notwithstanding, the Karmapa also made time to tour galleries devoted to Chinese paintings and works of art.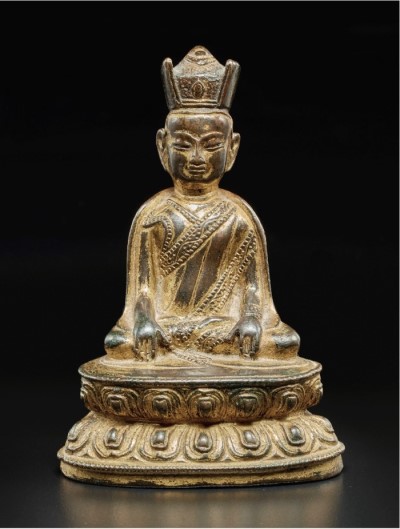 For Anuradha Ghosh-Mazumdar, head of the Indian and South-East Asian department at Sotheby's, the visit was an unexpected and thrilling encounter. "I cannot describe what it was like to be in his presence," she reports. "He radiates inner calm, which comes with higher spiritual consciousness and control." Ghosh-Mazumdar notes that the Karmapa is himself an accomplished artist, primarily creating thangkas. So he was able to appreciate the Asia Week objects from an artistic, as well a spiritual, perspective. "He loved the shows," she concludes. "It was the most amazing thing ever."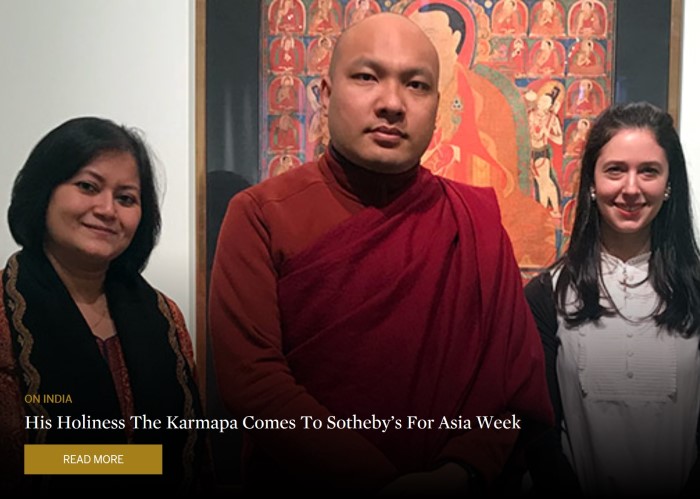 ---