時間:2018年7月1日 July 1, 2018
地點:美國紐約長島 LaGuardia Performing Arts Center, Long Island City, New York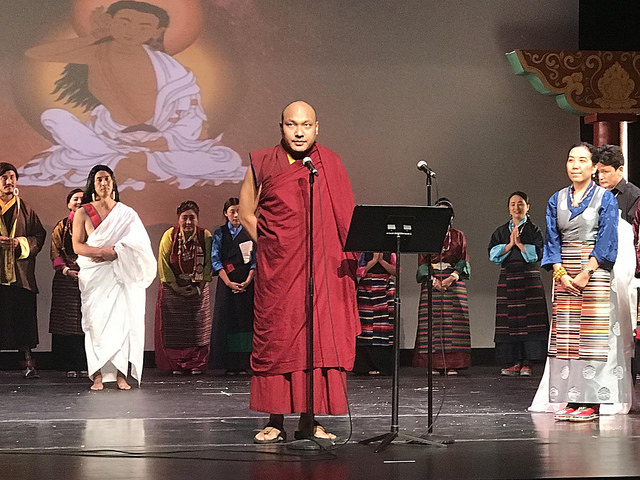 北方黑暗中,如日出雪山;其名號聞喜,我至心敬禮。
I prostrate to that supreme being, Known by the name of Thöpaga, Who shone like the sun on a snowy peak In the pitch-black darkness of the north.
這是大成就者那洛巴對密勒日巴尊者的讚頌,也是今天在紐約演出的《密勒日巴》的開場白。
The Mahasiddha Naropa's praise of Milarepa opens the Gyalwang Karmapa's play about his life.
經過6個月的籌備,紐約藏人服務中心的成員和親友,終於在拉瓜迪亞表演藝術中心(LaGuardia Performing Arts Center),將密勒日巴尊者的故事,以舞台劇的形式在紐約演出。中心創辦人和導演次凌.德奇(Tsering Deki)表示:
After six months of preparation, it was beautifully staged by members and friends of the New York Tibetan Services Center. Its founder and director, Tsering Deki, explained,
「過去兩年,我們就想把密勒日巴的故事搬上舞台,但一直苦於沒有劇本。所幸法王噶瑪巴剛好在美國,我們便去見法王。我請示法王,他的劇本是否可以給我們用,法王歡喜答道:『當然好啊,有什麼要幫忙的,我都會在後面撐著。』法王的這番鼓勵對我意義重大,它讓我想要把這齣劇做到最好,好讓法王和所有藏人都引以為傲。」
"For two years, we have been thinking about a Milarepa play but we did not have a script to follow. We were so lucky that His Holiness the Karmapa was here in America and we had an audience with him. I asked if we could use his script, and he happily said, 'Yes, of course. Any support you'd like, I'm right behind you.' Those words of support meant a lot. It made me feel that I'm going to make this the best show so that he and the rest of the Tibetans can be proud of it."
為了支持這齣劇的演出,法王確實不遺餘力。首先,法王將2010年在印度演出的6個小時的原版,改編為2個小時的紐約演出版。接著,法王會抽空跟他們面對面或通訊討論;之後,在生日那天,法王還特別去看他們綵排。在這過程當中,德奇還向法王提出一個特殊請求:
The Karmapa did give them a lot of support by adapting the play from the six hours it took for the 2010 performance in India to a shorter two-hour version for New York. He was also available for discussion in person and via texts and, he came to the rehearsal that took place on his birthday in June. Tsering Deki recalled her special request to the Karmapa:
「我想要有一首為馬爾巴的妻子達媚瑪所寫的歌,因為我覺得所有的美歌都是源於馬爾巴,裡面應該也有女性的歌才對。所以,我回去請求法王:『可以給我們一首達媚瑪的歌嗎?』於是,法王便為達媚瑪創作了一首歌!」
"I wanted to create an extra song for Marpa's wife Dagmema, because I felt that all the beautiful songs were coming from Marpa, but there should be female songs, too. So I went back to the Karmapa and asked him, 'Could you please give us a song for Dagmema?' So he composed one for her."
「我們真的很努力。」由於編劇是法王的關係,每一個演出者都很興奮,大家都想盡自己最大的能力,有的人想展現自己的藝術天份,有的人則是基於對法王的強烈虔敬心,想要將法王的劇作完美呈現出來。
Tsering Deki continued to explain, "We really worked hard. Because of who the playwright was, everyone was excited to take a part in the play and do their best. Some wanted to share their artistic talent, and some have so much devotion for the Karmapa that they wanted to make sure that what he wrote came out in a perfect way."
從4月份起的晚上,他們每兩天綵排一次。演員中有客串者,也有專業人士,其中包括一位9歲的女孩、一位10歲的男孩、兩位青少年、一個大學生、一位警察、一位會計師,還有幾位是家庭主婦和護士,以及西藏表演藝術學院(TIPA)的成員。表演藝術學院成員當中的兩位,還曾經參與2010年在印度菩提迦耶的原版演出。
From April, they had rehearsed every other night. The actors included a nine-year-old girl and a ten-year-old boy, two teenagers, a college student, a policeman, an accountant, housewives, and nurses as well as members of the famous Tibetan Institute for Performing Arts, (TIPA) who were professionally trained in India and have traveled the world to present Tibetan culture. Two of them had participated in the original presentation of the play Bodh Gaya, India in 2010.
今晚的表演,密勒日巴和達媚瑪等主要角色,都是由西藏表演藝術學院成員擔綱。平常綵排時,他們還兼任小老師,以自己所受過的專業訓練指導其他的演出者,並且將傳統藏劇的精華薪傳給首度以藏文演出的藏族新生代。德奇指出:
For the staging this evening, the TIPA artists were the main actors (including Milarepa and Dagmema) and they also took the role of teachers, fine-tuning the work of others and passing along the best of their tradition to a younger generation, who were performing in Tibetan for the first time. Tsering Deki noted,
「我們有些年輕成員從小在美國長大,他們對這齣藏劇很感興趣,想要參與演出,所以我們給了他們機會,讓他們上台用藏文來演戲。」
"We also have young members who grew up in America and are excited about this Tibetan play. They want to take part in it. So we facilitated an opportunity for them to speak Tibetan and be part of the play."
這齣劇不僅讓年輕演員的藏文有所進步,也讓他們開始關注自己的傳統文化。雖然身為藏人,但他們從來沒有機會去認識昔日的西藏。透過這齣劇的演出,對於過去西藏的生活、藏人彼此的關係和禮節,他們才有了一些認識。
Not only did their Tibetan improve, she continued, but also "Especially starting with this play, they started paying more attention to the culture. Even though they are Tibetan, they have not had the opportunity to see how Tibet used to be. In practicing here, they got the idea of what life in Tibet was like, how Tibetans related to each other, and how they behaved."
展望未來,德奇談到傳統和現代世界的交集:「在保存西藏風味的前提下,我們嘗試將西藏的傳統表演藝術,以較為西化的形式呈現,讓年輕的藏人也能夠欣賞。」
Looking forward to the future, Tsering Deki also spoke of the intersection between tradition and the modern world. "We are trying to convert Tibetan traditional performances into a more western style without losing their Tibetan feel to the point that young Tibetans can still enjoy the show."
這樣的理念尤其明顯的反映在三個地方:一、與舞台等寬的背景;二、加入自然的音聲以模擬環境,以及使用調和情感的音樂;三、以自然的律動來軟化制式的動作。此外,全劇5幕的劇情提要和同步藏文台詞,都以白色字體顯示在舞台右側的大螢幕上。
During the performance, this was especially evident in three areas: the use of stage-wide backdrops, the addition of natural sounds to simulate the environment and music to modulate feelings, plus a softening of stylized gesture with natural movement. Further, summaries of the Five Acts as well as a running translation of the Tibetan were shone in bright white letters on a wall to stage right.
婚禮的那幕戲,正好說明了藏劇現代化的部分轉變:與舞台等寬的背景為西藏起伏的山巒,當中有一座傳統的大石屋;除了台上演員在婚禮中交談的現場音之外,還加入了大眾吃飯聊天等模擬環境的聲音。這場婚禮戲,也給了西藏表演藝術學院的舞者一個大展身手的機會,他們以活潑的傳統舞蹈將新娘領進夫家,接著順勢分散為不同的小團體扮演交談的賓客。不久,舞台背景驟然出現密勒日巴作法興起的冰雹,音樂聲漸次增強的懸疑氣氛,令觀眾不禁也感受到婚禮中賓客的恐懼。
The wedding scene illustrated some of these shits to modernize the performances. An image of a large traditional stone house in the mountains of Tibet filled the back wall of the stage while sounds of people chatting and eating augmented the aural landscape of the actors on stage conversing with each other at the wedding party. The festive event also provided an occasion for the dancers from TIPA to escort the bride into her new home and perform a lively traditional dance. Afterward, they broke from their ranks with natural gestures as they formed small groups in conversation. Soon, the buildup of storm conjured by Milarepa was dramatically portrayed on the back screen with music in frightening crescendos, instilling some of the terror the guests must have felt.
另一幕場景是密勒日巴坐在山洞裡,四週雪山皚皚。寒風蕭颯聲中,馬爾巴和達媚瑪來看他。在達媚瑪幫他把窟門打破後,密勒日巴以自己的悟解來供養上師和師母,他說道:
In another scene, Milarepa is sitting in a cave with chill mountain vistas of snow-covered peaks stretching out behind him. Wind is whistling as Marpa and Dagmema come to visit him. After she helps him to break down the walls, Milarepa offers his experiential understanding to them and then sings:
「在無比恩德的上師父母之前,我密勒日巴沒有任何物質錢財的供養;只能在我的一生中,以修行和成就來供養;以究竟證解,報身莊嚴淨土來供養您。」
I have no way to repay the kindness 
of my extremely kind lama and consort.
Thus I offer my practice continually. 
May the results of my practice benefit beings.
全劇處處充滿佛法的開示,例如馬爾巴給密勒日巴的諄諄教誨 :
The play is full of these Dharma teachings and advice, such as Marpa's last instruction to Milarepa, which ends:
「要知道我對於財物的供養,根本就不在意;你拿努力精進修行來作供養,才是我真正歡喜的供養!你務必精進努力,建立成就的勝幢!」
"Better than making material offerings to me, what would gladden the heart of an old man like me would be for you to meditate in mountain retreats and plant the banner of practice."
接著,劇情演到,密勒日巴依照馬爾巴的指示,在喜馬拉雅的不同山洞中,多年精勤修行。在此劇的最後一幕中,演員齊誦對密勒日巴的著名祈請文〈密勒雪巴多傑尊者,我們祈請您!〉。
The play then depicts the years Milarepa spent in the caves of the Himalayas, practicing as Marpa requested. In the last scene of the play, the actors chant a famous prayer to Milarepa, "Lord Mila Shepa Dorje, we supplicate you!"
這時會場燈光亮起,兩位女士回到台上,向諸多護持者表示謝意。接著,法王受邀上台講幾句話,並且授以白色的長哈達為給台上所有的演出者,以及台下所有的工作人員,會場一片歡欣,誠如德奇所言:
As the lights came up, the two women returned to the front of the stage to thank the many people who had made the production possible. His Holiness was invited to say a few words and, standing in the center of the stage, he gave long white scarves to all the participants—those who had been on stage, and those off stage who supported them. A sense of joy permeated the scene and, as Tsering Deki noted,
「在法王噶瑪巴的尊前演出這齣劇,全體團員的感受大家都不曉得要怎麼說。事實上,這感覺是言語無以表達的啊。」
"Many people were looking for the words to express what all crew members feel about having the chance to be in the play when His Holiness the Karmapa is right here in front of us. And actually, there are no words that can express this feeling."