法王新闻 | 2008年05月
Two Talks on "Healing the Environment Through the Mind of Enlightenment"
"以覺心整治環境"的两场开示
时间:2008年5月25日 Sunday, May 25, 2008 reported by kagyuoffice.org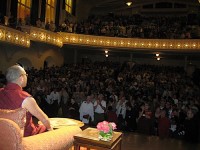 His Holiness had a very full day today, conducting private interviews, giving two public talks at Boulder's Macky Auditorium, granting a question-and-answer audience for the organizing sanghas of the Boulder visit, and granting an audience to an assembly of hundreds of members of the Boulder Tibetan community at the Boulder Shambhala Center.
法王噶瑪巴一整天的行程包含兩場於博爾德 Macky Auditorium對大眾的佛法開示,一場『問與答』座談會,此座談會是應博爾德法王行程之主辦單位僧眾的祈請。另外,法王也於香巴拉佛法中心接見數百位博爾德西藏團體的會員。
The topic for His Holiness's public teachings was "Healing the Environment Through the Mind of Enlightenment," and at the Tibetan community audience His Holiness gave advice to the assembly and conferred the reading transmission of Avalokiteshvara.
兩場公開的佛法開示主題為-『以覺心整治環境』,另外,在接見博爾德的西藏團體時,法王噶瑪巴也給予簡短開示和觀音菩薩的口傳。
在開示中,法王提到,祈願世界和諧安樂是重要的,但光只是祈願並不夠。雖然無法使世界立即達到和平,但透過間接地努力改變也是有可能的。法王說,這不是一個希望,這是經過他的觀察而得的結論。
法王用了一個實例來做說明,在紐約和博爾德的公開開示中,法王都說到自從他八歲起就有了強烈的心願希望能來美國。然而無論是在西藏或是在印度,法王都受到了很多的限制,有時甚至只能待在三層樓的寺院中。隨著時間過去,人們開始關注到他的處境。當人們開始關注到他的處境,情況的改變也就變得越來越有可能。結果就是現在法王終於能如願來到美國與大家見面。
另外,法王也談到,我們所做的每件事都在地球上留下印跡,大地之母已經給予我們很多的恩惠了。現在應該是我們思考如何回報恩情的時候了。
對於內在和外在世界是如何地產生相互影響,法王也給了一個具力的例子─禪修。法王說,禪修的首要條件即是創造一個和諧的環境。法王也提到,有許多外在世界發生的事也給內在的和諧帶來挑戰,如許多人受到自然災難的影響而使情緒不穩定,甚而失去了希望。
His Holiness will now be taking a few days of private rest. He will resume public teachings on Saturday, May 31 at the Paramount Theatre in Seattle, Washington.
接下來,法王噶瑪巴將有三天的私人行程,之後,於五月三十一日在華盛頓州西雅圖的 Paramount Theatre,法王噶瑪巴將再度給予大眾佛法開示。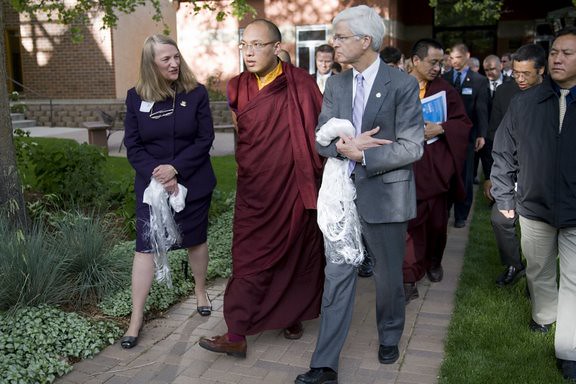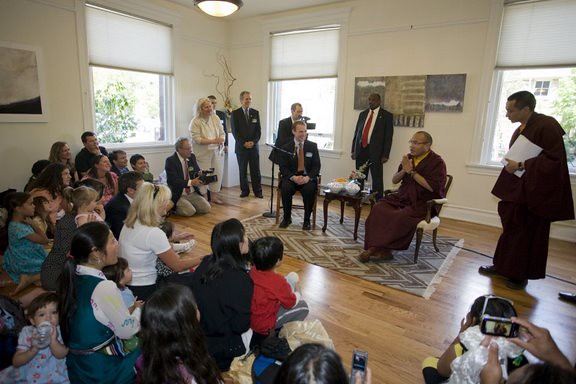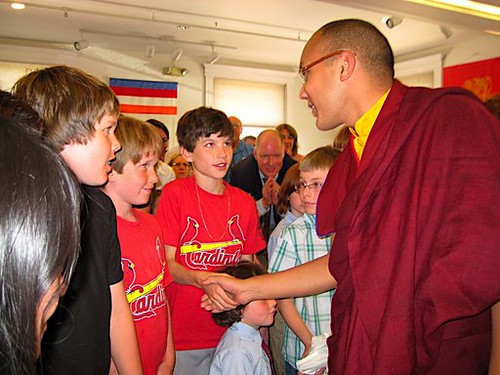 Healing the World Through the Enlightened Mind
May 25, 2008 at the Macky Auditorium in Boulder, Colorado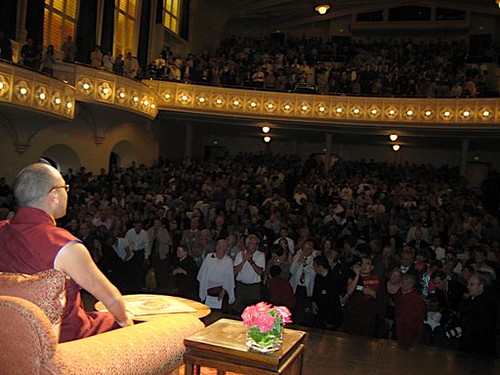 His Holiness the 17th Karmapa left his "hand print" on Boulder Colorado over the Memorial Day week-end. The sold-out Macky auditorium crowd for the two public talks received more than the priceless wisdom His Holiness shared concerning the interconnectedness between the environment we live in and the inner peace of our minds. Throughout the day into the evening the gentle yet powerfully penetrating influence of His Holiness' unchanging impeccable presence left an indelible impression on those of us in Boulder.
Following the morning and afternoon public talks a question and answer session was held for the sangha audiences. Towards the end of the evening His Holiness wanted to share from" his side." He stated simply and as a matter of fact that his love for us is so strong that no obstacle could get in the way of him returning here to spend time with us. Though there was thunderous applause' during other points in the evening, a pin drop could be hear after this.
His Holiness taught that in Tibet, there are many stories about highly accomplished Masters who left handprints on stone and performed other feats that seemed miraculous. He said they really were not miraculous. The Masters do this to teach us about the powerful connection between our mind and the world. A heart full of love can transform something as hard as rock into something malleable.
Many of the attendees said that it was His Holiness' presence that they will never forget. A theme true for countless members of audiences touched by the Karmapa in his tour of America. The Boulder crowd could not help but be touched by His Holiness and made a bit more malleable by his immeasurable love and compassion.
If it were not for the humor and warmth displayed between His Holiness and Ponlop Rinpoche's amazing translator, Tyler Dewar, the Karmapa's presence could appear to be quite powerful and intense. But the nonverbal teasing and "dead-pan face" the Karmapa showed in response to Tyler's reactions were hilarious and endearing.
His Holiness said that even though our topic today is healing the environment through the mind of awakening, there are many problems in the world today that we cannot address directly and immediately with our mind alone. Aspirations to make our environment peaceful and gentle are important, but not sufficient. However, His Holiness said it is possible to change things indirectly. He said this is not a hope; His Holiness has had a vision that this is possible.
His Holiness used an illustration from own life. At gatherings in New York as well as Boulder the Karmapa has repeated that it was his greatest wish since he was eight years old to come to America. His Holiness had a very restricted life in Tibet and India sometimes limited to three floors of a monastery. Over time other people became concerned about his situation. As others began to pay attention to his situation, it began to change and become more workable. As a result, His Holiness is now here in America.
His Holiness said everything we do leaves an imprint on the world. The world has given us much, an environment in which we live and practice. Now we should consider how to give back.
A potent example the Karmapa gave of how the outer and inner worlds interact is the practice of meditation. A most important condition for meditation is to create a peaceful environment. We should think about this. So much in the outer world poses a challenge to inner peace. For example many people affected by natural calamities lose basic emotional stability and hope.
On Sunday morning His Holiness talk was preceded by the Tibet in America dancers, who performed a celebratory dance in honor of His Holiness' visit. The Gammy award winning nominee Flutist, Nawang Khechog, provided the audience with beautiful, healing tones. America's great favorite Buddhist Nun and renowned teacher, Pema Chodron, gave the opening introduction for the Karmapa displaying a heart awe-struck by the magnitude of the teacher she was presenting.
A film depicting the life story of the Karmapa was shown before each of the teachings. The momentous occasion was highlighted in the afternoon with a brief address by the Karmapa's Secretary General. Also greeting and welcoming His Holiness in the afternoon was Lady Diana Mukpo. Lady Diana told the crowd about how her husband the Honorable Chogyam Trungpa Rinpoche had worked single handedly to bring His Holiness the 16th Karmapa to America. His example and tireless enlightened activity imbued his western students with a sense of the nature of true devotion.
Last follows a special story His Holiness shared from his childhood in Tibet. When His Holiness was about 8 years old, the area around his monastery, not far from Lhasa, experienced earth quakes frequently. The structures were largely made of wood and rattled noisily. At his age, he said he did not know how to be afraid so he slept through many earthquakes. Even when people would pick him up and carry him from a two- story building to a single- story building, thought to be safer, he was so tired he just decided to go back to sleep. Though His Holiness was relaxed through all of this, people came to him and said." You are the Karmapa. You should do something about this." His Holiness said he didn't know how to be afraid or how to stop earthquakes. At the time there was a belief that earthquakes were caused by a giant tortoise stirring under the earth. The people told him he should talk to the turtle and persuade it to stop causing earthquakes. The very young Karmapa wondered if the turtle had ears, especially if it was under the earth. He was not sure so he simply started talking to the earth saying, "If you stop moving around, I will give you something good, (he thought maybe the turtle would like milk). But if you don't cut it out things will not be easy for you in the future." After that there were no significant earthquakes in the region.
When His Holiness was 14 years old, on the eve of his planned escape from Tibet, there was a minor earthquake. His Holiness, smiling, noted, "It was as if the turtle knew that the guy who told him to stop it was leaving so he did not have to be still anymore." He also said he thought the earth tremor signified good luck.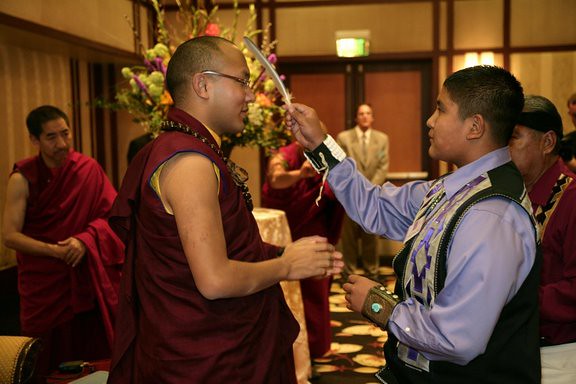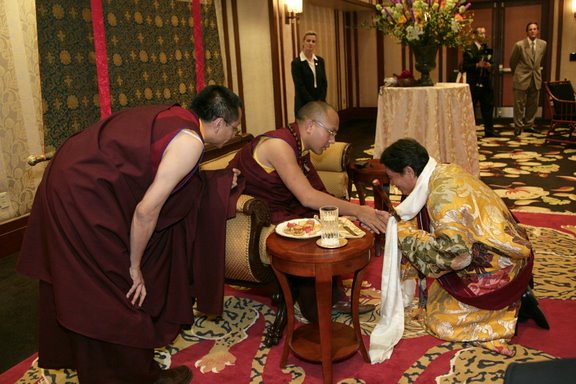 ---